Pokémon Scarlet and Violet DLC: The Teal Mask Release Date
| Tags: Pokemon | Author Joseph Shay
Pokémon Scarlet and Violet's first DLC: The Teal Mask releases on Wednesday, September 13th.
A lot more about the upcoming Pokémon Scarlet and Violet expansion was revealed following this Summer's Pokémon Presents.
Serebii Update: The Teal Mask will release on September 13th 2023 https://t.co/NWlAdn5F0o pic.twitter.com/hPa1vJ6gs2

— Serebii.net (@SerebiiNet) August 8, 2023
The Teal Mask
Image Source: The Pokémon Company
Announced for release on Wednesday, September 13th, The Teal Mask opens up The Land of Kitakami in game. A mountain shaped like a creature's head. It will bring returning Pokémon that couldn't yet be found in Scarlet and Violet as well as completely new Pokémon. It will also bring some new characters, such as a Blueberry Academy Professor, and two students.
Carmine and Kieran are brother and sister who attend Blueberry Academy. They seem to be integral characters in both The Teal Mask and The Indigo Disk. They'll bring along with them not only a new story but new Pokémon as well.
New Pokémon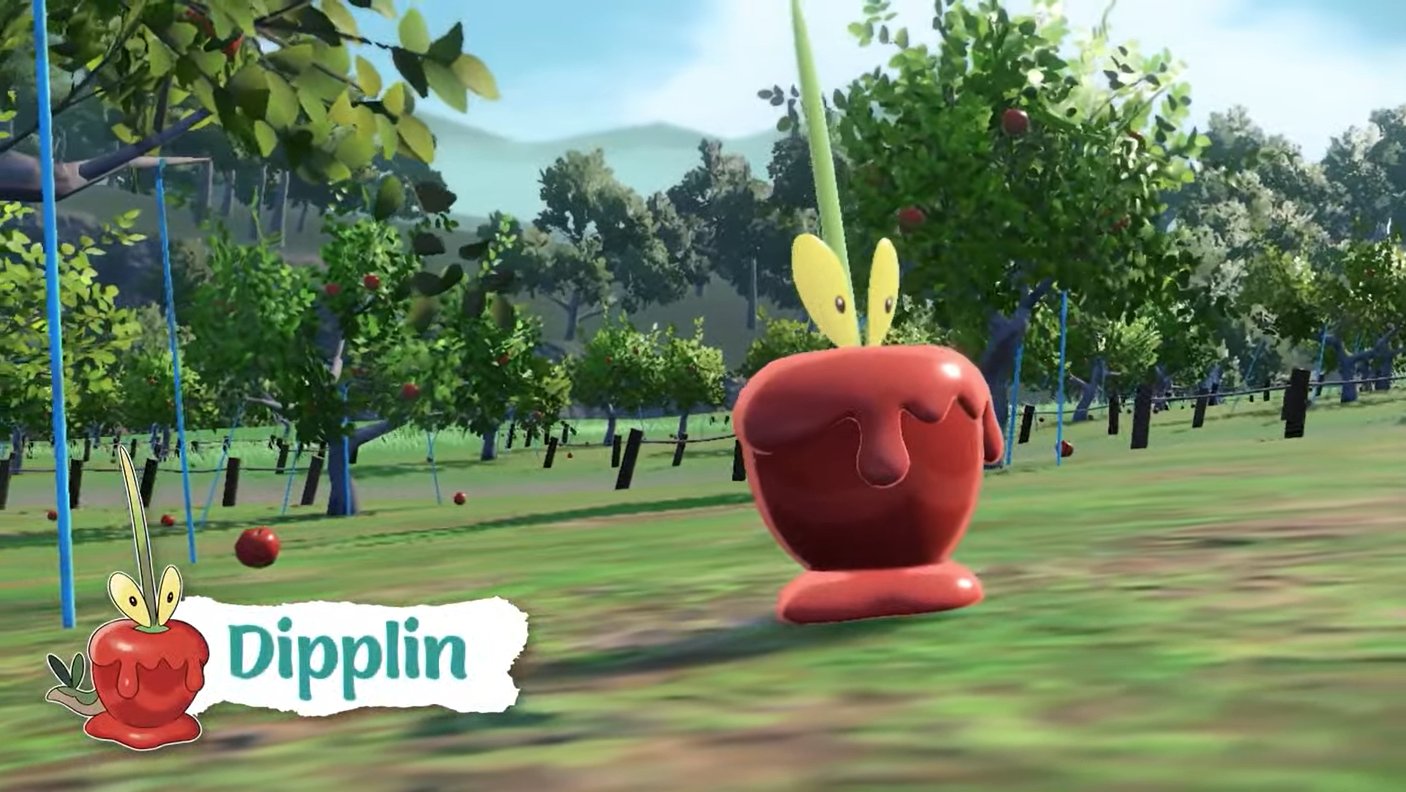 Image Source: Serebii
The Teal Mask release will bring us a new Pokémon, with The Indigo Disk seemingly bringing us even more. Firstly is Dipplin, a new evolution of Applin. It is featured as Kieran's Pokémon and matches the apple theme of The Land of Kitakami. It looks to be a candied apple-inspired Pokémon, also matching the festival theme of the DLC. It is seen using a special move in the trailer as well.
Okidogi, Munkidori, and Fezandipiti (from left to right) are the "Loyal Three"; hero Pokémon of The Land of Kitakami. They will likely be the most integral piece of the story besides the new legendary when The Teal Mask releases. Their tale of warding of "The Ogre" is the reason for the Festival of Masks that will be a key setting in The Teal Mask.
Image Source: Game8
Ogerpon is the final new Pokémon that will be released in The Teal Mask, with the entire DLC being named after it. Its powers are so far unknown, but it will likely be considered a legendary and will be the final piece of the DLC.
New Events
Image Source: Gammepur
Similar to Pokémon Snap, there is a new mission in The Teal Mask in which players will help a character named Perrin to take pictures of Pokémon in The Land of Kitakami. She's looking for a particular Pokémon, which may be Ogerpon, or a Pokémon we have yet to see.
There will also be a game called Ogre Oustin' where players will ride their Koraidon or Miraidon to pop balloons and retrieve mochi. Mochi will be a new item on The Teal Mask release that can boost or reset a Pokémon's base points for training.